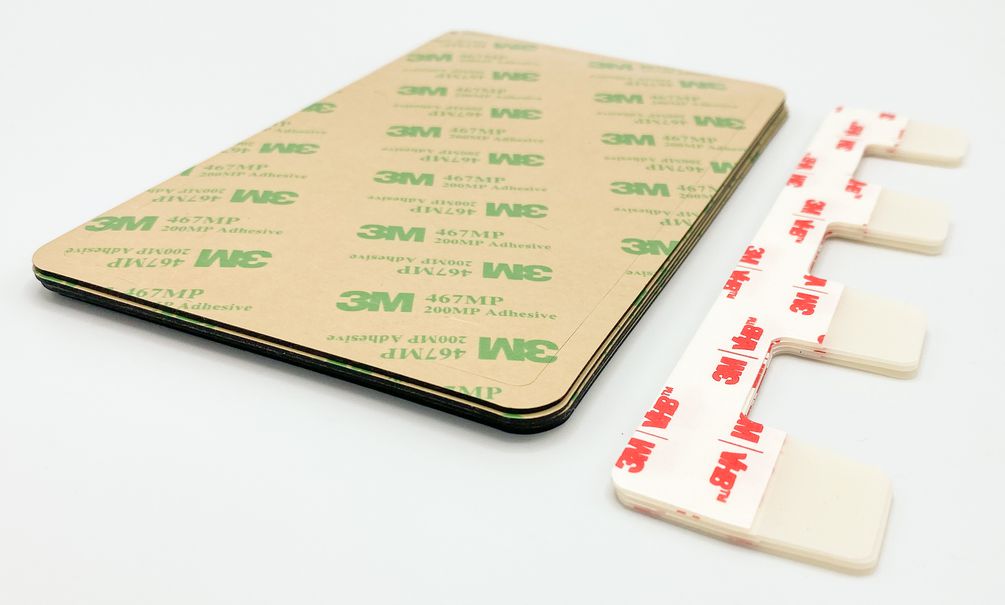 Auburn Adhesive Program
---
Auburn can take any plain gasket material and apply adhesive to one or both surfaces. Auburn's adhesives are available for all finished parts and/or materials; gaskets, shims, washers, electrical insulators, sponge or foam pads, silicone parts, and sheet or roll goods, and tapes. Auburn works with dozens of popular adhesives including double-coated pressure sensitive adhesives, ACR-2®, double-coated acrylic adhesives (PSA), repositionable adhesives, 3M transfer adhesives and 3M VHB tapes.
For applications involving silicone sheet, silicone tapes, solid silicone gaskets or silicone sponge gaskets, Auburn offers high-temperature acrylic adhesives rated up to 450° F or silicone adhesives rated up to 500° F. All Auburn adhesives come with an easy-to-remove peel off liner.
The use of PSA's or transfer adhesives has many distinct advantages that include eliminating the messy job of cementing during assembly operations, assuring a uniform amount of adhesive per part, and reducing labor time in assembly operations——. Please contact your Auburn Customer Service Representative for additional technical support, material samples, recommendations and/or quotations.
Common Substrates - Gasket Material List
Algco®, celcon®, chipboard, closed cell sponge, cloth, cork, delrin®, dupont films, duroids, ECH, electricically conductive materials, felt, fibre, flexible vinyl, foams, formex®, insulating papers, kraft paper, lexan®, mylar®, nitrile, neoprene, nomex®, nylon, open cell sponge, PVC, phenolics, plastics, polyester®, polyethylene, polypropylene, polystyrene, poron®, ragpaper, SBR, silicone, sponge, statex®, teflon (etched), thermo-tork®, urethane, velcar, vellumoid, vinyl foams, volara, and many more