The Auburn Advantage
Full Custom Fabrication Services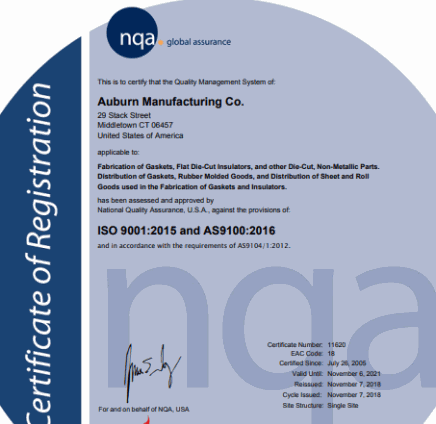 View Auburn's ISO-9001 & AS 9100 Quality Certificate
Over 450 Materials in Stock!
We keep vast inventories of materials on hand for rapid execution of orders.
All Solid & Sponge Rubbers, Foams, Plastics, Corks, Fibres, Felts, Silicones and Poron.

Urethanes, Phenolics, Cork/Rubber Compositions, Mylar, Vinyl, Kapton, Polypropylene, and Nomex.

Flame Resistant Mylar Tapes, Kapton Tapes, Special Adhesive Films, Water Proof Materials, and Gas & Oil Resistant Materials.

Multilayered Constructions and Composites, Sheets, Rolls, and Shim Stock.

Capabilities

Full custom fabricating services.

Prototypes, Short runs, and Production.

Steel Rule Dies, Compound Dies; Kiss Cutting, Bending, Scoring, Folding & Identification Stamping.

Lathe Cut Washers, Molded Rubber Shapes, Rubber Extrusions.

Plastic Sonic Welding.