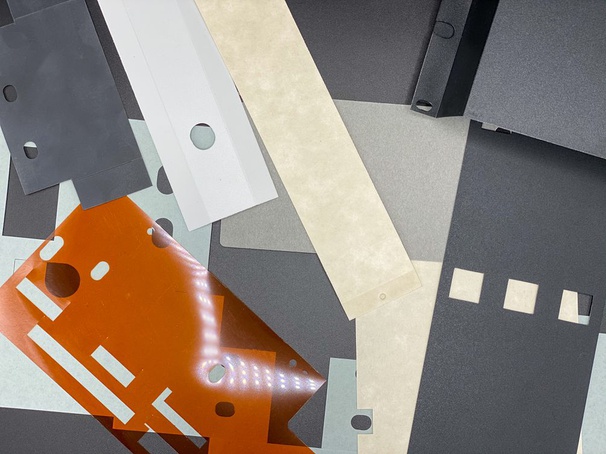 Insulation Parts
---
Auburn insulators, shields and barriers are manufactured for applications involving switches, timers, lighting fixtures, motors, transformers, electronic instruments, control components, fuse assemblies and more.
Auburn has a vast inventory of over 250 different gasket materials to choose from, including dozens of popular insulating materials; fiberboards, polymers, plastics, papers, films, insulating tapes, special moisture-resistant products, UL & CSA certifiable formulations and flame-retardant formulations and high temperature (heat resistant) gasketing.
Auburn can further bend, score, fold, sonically weld, and/or apply a variety of pressure sensitive or transfer adhesives to any insulation-gasket part and/or material. Manufacturing processes include die-cutting, machining, forming, shearing, punching and thermoforming for fabrication of an extremely broad range of finished products.

Custom Design Capabilities
---
Score Lines

Folds and Bends

Adhesive Backings

Sonic Welds, Box Shapes, 2 Part Welding

Multilayered constructions

Ink Stamping, Silk-screening, Embossing

Counterbores, Countersinks, and Threaded Holes